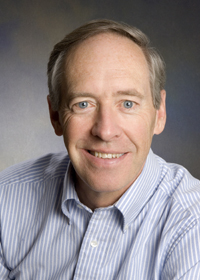 Dennis J. Selkoe, MD
The Vincent and Stella Coates Professor of Neurologic Diseases
Harvard Medical School
Co-Director,  Center for Neurologic Diseases
Department  of Neurology
Brigham and Women's Hospital
Dennis Selkoe, the Vincent and Stella Coates Professor of Neurologic Diseases at Harvard Medical School and Brigham and Women's Hospital, has devoted his career to the use of molecular approaches to study Alzheimer's disease (AD), Parkinson's disease and related basic biological questions.  He is a graduate of Columbia University and the University of Virginia School of Medicine.  After initial research training at the National Institutes of Health (NINDS), he completed a residency in neurology at the Harvard/Longwood Program and a postdoctoral fellowship in neuronal cell biology and neurochemistry in the Department of Neuroscience, HMS.  In 1978, he founded a laboratory applying biochemical and cell biological techniques to the study of human neurodegeneration.
Selkoe and coworkers broke new ground in 1982 when they developed a method to isolate the abnormal neurofibrillary tangles that are a hallmark of AD and described their unusual chemical properties.  With other labs, they identified the microtubule-associated protein tau as the principal component of tangles.  Selkoe then turned his attention to the other hallmark lesion of AD — the amyloid plaque — and has conducted extensive experiments on the amyloid ß-protein (Aß) and its precursor, APP.  The results led him to formulate a theory — the amyloid (or Aß) hypothesis — about the pathogenic cascade that causes AD.  In 1992, Selkoe and collaborators discovered that Aß is continuously produced by normal cells throughout life.  This unexpected finding initiated the dynamic study of Aß formation in cultured cells and has enabled the identification of Aß production inhibitors.  The lab showed that inherited mutations in APP, and later the presenilin genes, cause AD by increasing the generation of Aß.  In 1999, Selkoe and colleagues identified presenilin as the long-sought gamma-secretase, an unprecedented intramembrane aspartyl protease that processes APP, Notch and many other proteins.  Recently, the Selkoe lab conducted a series of studies showing that small, soluble oligomers of Aß are responsible for synaptic injury and interfere with memory.
These advances have led to numerous awards, including the Potamkin Prize (shared with George G. Glenner), the Metropolitan Life Foundation Award, and the A.H. Heineken Price for Medicine.  Selkoe is a member of the Institute of Medicine of the National Academies and a Fellow of the American Association for the Advancement of Science.  He co-founded and co-directs the Center for Neurologic Diseases at Brigham and Women's Hospital.  Selkoe was the principal founding scientist of Athena Neurosciences, now Elan Pharmaceuticals.  He has served on the editorial boards of several scientific journals, the Neuroscience Review Committee of the Howard Hughes Medical Institute and the National Advisory Council on Aging (NIH).  With HMS Dean Joseph P. Martin, he founded the Harvard Center for Neurodegeneration and Repair in 2001.